for English, pls scroll down
Bali is een paradijs voor de toerist maar zeker ook voor fotografen. Het is een prachtig eiland. De Balinezen zijn mooie lieve mensen met een bijzondere cultuur. Het Hindoeïstische geloof van de Balinezen gaat gepaard met verschillende ceremonies die zeer regelmatig plaatsvinden. Heel bijzonder om te zien en te ervaren.
Hari Raya Galungan & Kuningan is één van de vele Balinese feesten en duurt 10 dagen. De eerste dag is Hari Raya Galungan en dan keren de voorouderlijke geesten terug voor een bezoek. Ook wordt dan de overwinning van Dharma op Adharma gevierd. De laatste dag is de viering van Hari Raya Kuningan, wanneer de voorouderlijke geesten weer terugkeren naar de geesten wereld.
Gedurende deze dagen wordt er veel gebeden en geofferd. Water speelt een belangrijke rol bij diensten en rituelen. Tijdens een wandeling op het strand van Seminyak zag ik Balinezen offeren bij de zee en een priester bidden en offeren op een verhoogd plateau op het strand.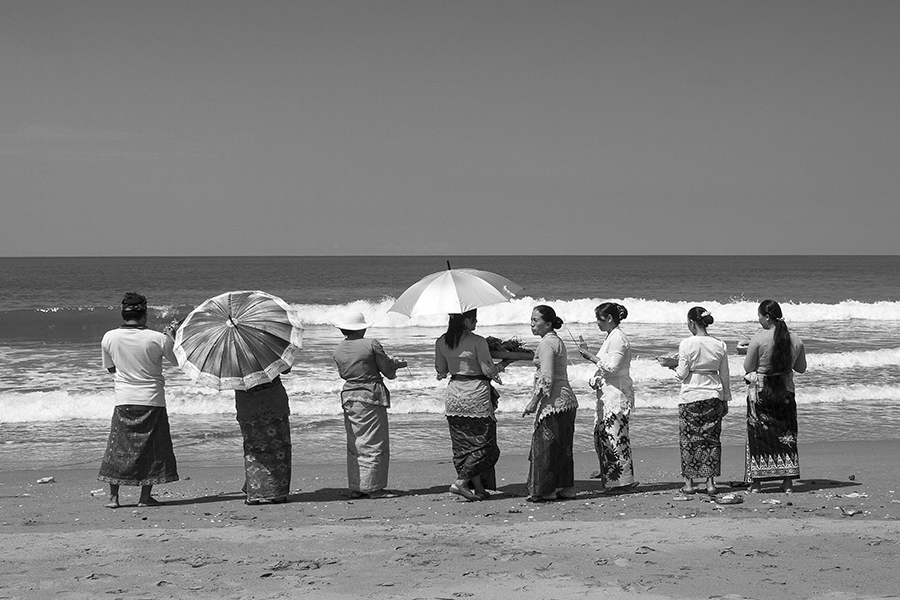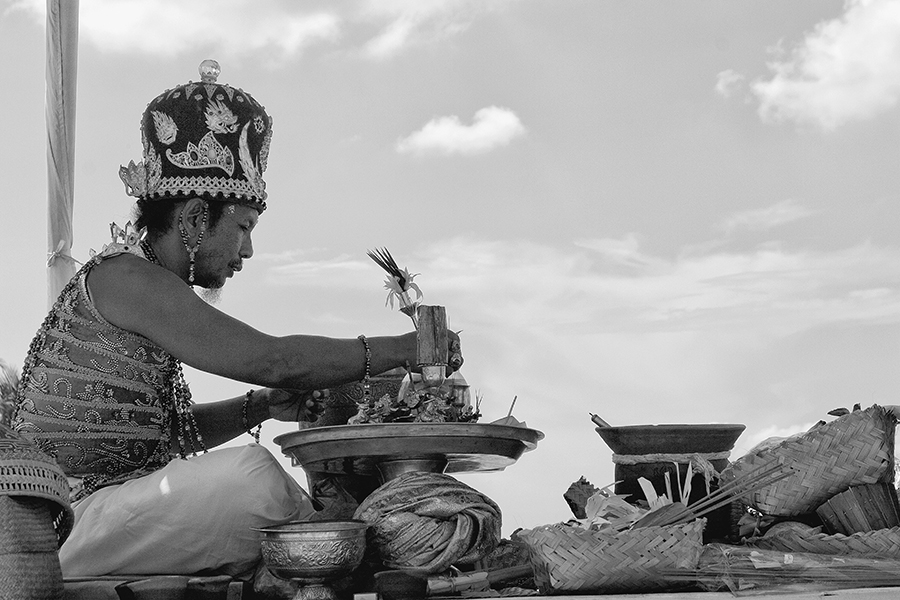 Bovenstaande foto's zijn te koop in mijn shop via WERK AAN DE MUUR. De foto's kunnen worden geprint in originele-, in vintage kleuren en in zwart/wit.
~.~
Bali is a paradise for tourists but also for photographers. It is a beautiful island. The Balinese are beautiful people with their own special culture. The Hindu belief of the Balinese people is full of ceremonies which take place regularly. Very special to see and experience.
Hari Raya Galungan & Kuningan is one of the many Balinese feasts and lasts for 10 days. First day is Hari Raya Galungan and on that day the ancestral spirits return for a visit. The victory of Dharma on Adharma is celebrated. The last day of the celebration is Hari Raya Kuningan, on that day the ancestral spirits return to the spirit world.
During these days there is a lot of prayers and sacrifices. Water plays an important role in services and rituals. During a walk on the beach of Seminyak I saw Balinese people making offerings by the sea and a priest praying and offering on a raised plateau at the beach.
Above photos are for sale in my shop by WERK AAN DE MUUR. The photos can be printed in original-, in vintage colors and in black/white.
SaveSave
SaveSave
SaveSave
SaveSave
SaveSave
SaveSave
SaveSave
SaveSave
SaveSave
SaveSave
SaveSave
SaveSave
SaveSave
SaveSave
SaveSave
SaveSave
SaveSave
SaveSave
http://photoworks.nl/wp-content/uploads/2017/10/priester.jpg
600
900
Brenda Reimers
http://photoworks.nl/wp-content/uploads/2017/09/logo-photoworks5.png
Brenda Reimers
2017-10-11 07:28:08
2020-12-10 08:04:14
Ceremonies in Bali